Certified Agile Leadership®
Today's workplace is a fast-paced "race" on a complex and uncertain global field. Traditional leadership thinking and practices are failing to meet today's challenges. Leader's must more effectively engage employees, foster creativity, speed delivery and mitigate risk to outpace the competition. Innovation is the only competitive barrier remaining.
The Certified Agile Leadership Workshop with Pete Behrens (Certified Agile Leadership Educator) is an interactive leadership-focused workshop building skills and competencies to effectively guide and grow agile leaders, coaches and their organizations to perform more effectively in this fast-pace, complex and uncertain environment. Leaders substantially influence an organization's agility and effectiveness.
This two-day workshop focuses on the leader's own awareness and capacity to effectively guide and grow their organization's capacity. It is the first step – the AHA! – in the leader's journey toward improved performance and outcomes.
This workshop will be held in English.
duration: 2 days
price: €2.500,– (plus 19 % VAT) or €2.100,– (plus 19 % VAT) as Early-Bird
max. participants: 16
Sie wollen ein individuelles Inhouse-Training buchen?
Course Details
Leaders substantially influence an organization's agility and effectiveness. Increasing leadership awareness and competency in their own agility as well as their competency in aligning and empowering organizational agility is challenging. This workshop provides the AHA! leaders need to first increase their own personal awareness and to kickstart their journey to improved performance. This Certified Agile Leadership Workshop is an interactive leadership-focused workshop building skills and competencies to effectively guide and grow agile leaders, coaches and their organizations. This workshop is a pragmatic application of theory and provides concrete models, tools and techniques for leaders to employ directly in their own thinking, their own behaviors, and within their organizations.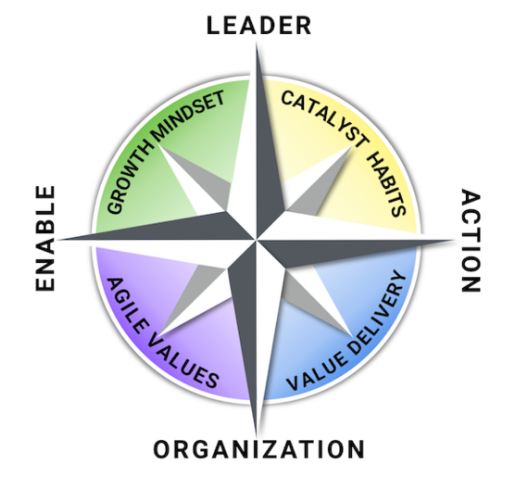 Agile Leadership Compass Participants will explore a comprehensive view of Agile Leadership – first from the leader's personal perspective in how agility impacts their thinking and behavior, then from an organizational perspective in how they can effectively align, guide and scale their organization's agility. The Agile Leadership Compass will provide guidance for participants both during the workshop and as an aid in their practice following the workshop.
WORKSHOP MODULES
Context for Agility – Participants take a historical tour of management styles and industry trends driving the need for increased creativity and agility.
Leadership Agility Maturity – Participants explore and self-assess their leadership maturity and its relation to increased creativity and agility for improved outcomes.
Neuroscience of Leadership – Participants delve into the fundaments of brain research from threats on status, autonomy, fairness and change and how leaders can improve outcomes through cognitive responses.
Catalyst Conversations – Participants learn and practice a simple 5-step technique to reduce threats, increase creative outcomes, and empower others in any conversation, team meeting or organizational initiative.
Organizational Culture – Participants examine the Competing Values Framework, and organizational culture diagnostic, to better understand organizational values and their impact on change and agility.
Organizational Change – Participants walk through 3 interconnected change models to better understand the organization as a complex adaptive system and how to guide change that sticks.
Organizational Case Studies – Participants explorecourse-ledand participant shared case studies to evaluate governance, metrics, and structures which impede or strengthen organizational agility.
Terms and Conditions
The registration is binding. In case of a circumvention, you can change or cancel your registration up to 28 days before the course starts. Following conditions apply to changes after this period:
Cancellation or Absence: 100% of course fee
Change of Participant at no additional cost
We understand that plans change, but at the same time we make commitments to the trainers we work with, venues we book, etc.
Trainer
Pete Behrens is a Leadership Agility Coach and founder of Trail Ridge Consulting. He provides guidance to senior executives on how to transform themselves and their companies to work more effectively with more agility. Pete is a Certified Leadership Agility 360 Coach providing one-on-one assessment, development and guidance for increasing the agility of organizational leaders. He is a Certified Enterprise Coach (CEC) and a Certified Scrum Trainer (CST) working deeply with organizations to improve their organizational agility. He was the founder of the Scrum Alliance CEC Program.
Ihr Kontakt
Gerne nehmen wir Ihre Buchung auch telefonisch oder per Mail entgegen.
Andrea Bannuscher
Discounts
3 Attendees registered from the same company: 5% of the total Registration Fee
5 or more Attendees registered from the same company: 7,5 % of the total Registration Fee